Panasonic TOUGHBOOK Encourages Channel Partners to Grow With New Partner Portal
Launches new-look channel partner portal alongside its "Plant a Tree" campaign to encourage business and sustainable growth
BRACKNELL, UK. 24th September 2019 – Panasonic TOUGHBOOK is encouraging European channel partners to grow their business by using its new-look partner portal and by helping to plant over 1000 trees in Europe and Tanzania in support of ForestNation's campaign to help alleviate hunger, poverty and deforestation.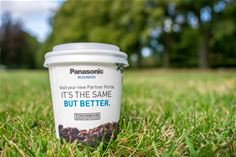 Panasonic TOUGHBOOK Partner Programme
To encourage its channel partners to use the portal for learning, marketing support and registering deals, Panasonic TOUGHBOOK is sending a grow a tree kit, with its own unique log-in code for the portal, to more than 500 partners. When the channel partner uses the code, Panasonic, via ForestNation's campaign, will automatically plant another tree in Tanzania.
"We thought the chance to grow new trees alongside growing our business with our European channel partners was an irresistible opportunity," said Stefan Petterson, Panasonic TOUGHBOOK's Channel Sales Manager for Europe. "By using the new Panasonic TOUGHBOOK partner portal our specialist rugged notebook, tablet and handheld resellers, along with our Independent Software Vendors (ISVs), have the chance to boost their new business pipeline and secure valuable marketing and technical sales support whilst helping communities and the environment in Europe and Africa."
Refreshing the Panasonic TOUGHBOOK European Channel programme has been one of Stefan's key priorities since taking the Channel Sales Manager role in the summer. Stefan has spent more than 10 years with Panasonic TOUGHBOOK in commercial positions and more than 30 years in the mobile computing industry. As part of the refresh, the channel business has been segmented into three distinct areas with the Engage Programme for rugged notebook and tablets partners, the Edge Programme for rugged handheld partners and the ISV programme for specialist software application partners.
The portal will provide partners with the latest product roadmap information to help respond to customer enquiries faster, as well as making the marketing, sales and fulfilment process more efficient. Panasonic has also refreshed its TOUGHBOOK University programme to help partners strengthen their knowledge on products and solutions using e-learning tools and webinars.
For more information about Panasonic TOUGHBOOK visit: https://business.panasonic.co.uk/computer-product/language-selector
Press contact:
Kiri O'Leary
The Amber Group
kiri@ambergroup.net
+44 (0)118 949 7737
About Panasonic System Communications Company Europe (PSCEU)
Our quest is to make technology work invisibly together and free businesses to succeed. We believe technology should just work. That businesses will succeed if they can simply focus on their customers, in the knowledge that all the technologies delivering their capabilities work together. That is why we are dedicated to developing products and solutions that are so integrated with our customer's way of working, that they are almost invisible – the workhorse in the background that powers business success.
PSCEU is made up of six product categories:
Broadcast & ProAV gives you the freedom to tell the story with its high quality products and solutions, which ensure smooth operation and excellent cost-performance across a range of remote cameras, switchers, studio cameras and ENG P2HD. The cinema camera range of VariCam models and the EVA1 are capable of true 4K and High Dynamic Range (HDR) making them the ideal solution for cinema, television, documentary and live event production.
Communication Solutions offers world leading telephony systems, SIP terminal devices and professional 'network' scanners giving you the freedom to focus on the communication and not the connection.
Mobile Solutions Business Division helps mobile workers improve productivity with its range of Toughbook rugged notebooks, business tablets, handhelds and electronic point of sales (EPOS) systems. As European market leaders, Panasonic had a 48% revenue share of sales of rugged and durable notebooks and tablets in 2018 (VDC Research, March 2019).
Industrial Medical Vision manufactures applications for various segments such as medical, life science, ProAV or industrial. The product portfolio includes complete and OEM camera systems, providing the freedom to see what can't be seen.
Security Solutions, built on a heritage of providing evidential quality CCTV footage. Delivering the highest image quality in all environmental conditions using our highly reliable, advanced technology cameras and image recording systems, giving you the freedom to feel secure.
Visual System Solutions offers the widest range of professional displays and projectors and allows Audio Visual professionals the freedom to create. It leads the European high brightness projector market with a 39% market revenue share (Futuresource >5klm FY17 Q3, excl. 4K & digital cinema).
About Panasonic
Panasonic Corporation is a worldwide leader in the development of diverse electronics technologies and solutions for customers in the consumer electronics, housing, automotive, and B2B businesses. The company, which celebrated its 100th anniversary in 2018, has expanded globally and now operates 582 subsidiaries and 87 associated companies worldwide, recording consolidated net sales of Euro 62.5 billion for the year ended March 31, 2019. Committed to pursuing new value through innovation across divisional lines, the company uses its technologies to create a better life and a better world for its customers. To learn more about Panasonic: https://www.panasonic.com/global.
Published at Tue, 24 Sep 2019 09:00:00 +0000