HubbleHQ rebrands to showcase its formula to help businesses 'automagically' find their perfect office
HubbleHQ aims to take the complexity and guesswork out of finding a new office by combining technology, data, and professional expertise.
HubbleHQ, London's largest marketplace for office space, has revealed a new brand identity in its mission to provide businesses everywhere with a workplace that empowers and inspires them to succeed – no matter their size, industry or requirements.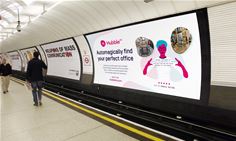 HubbleHQ
Working with branding agency Onwards, HubbleHQ has today revealed its new brand identity: Office Search Alchemy.
'Alchemy' alludes to a scientific office search process, the results of which feel like magic. It aptly reflects the unique approach that HubbleHQ has devised to deliver an unrivalled search experience for businesses everywhere; combining technology, data and property expertise to 'automagically' conjure up an office space that matches the specific needs of any business.
Over the past five years, HubbleHQ has developed the industry's most advanced tech platform which, when combined with millions of data points on spaces, places and cities, and underpinned by the expertise and transparency of personal "office alchemists" matches businesses with their ideal office space.
HubbleHQ has grown rapidly, doubling and tripling turnover every year since the company was founded in 2014. With £6.5m total investment received to date and over 50,000 companies signed up, the growing popularity of HubbleHQ has been accelerated by the fact that they are now the only online platform to host flexible, managed and leased office inventory in one place.
As the UK office market continues to evolve, organisations are seeking more tailored and adaptable methods of accessing office spaces. With complete rent pricing transparency, 100% market coverage and expert advisory service, HubbleHQ is a trusted partner for businesses of all sizes.
Today will be the first time that the new brand is unveiled to the public in tube stations across the city in a campaign led by the message: "Automagically find your perfect office" highlighting the ease and efficiency of the HubbleHQ office search process.
"We are excited and proud to reveal 'Office Search Alchemy', a unique 'search formula' which blends our industry-leading tech platform, data-led insights and market expertise to best match every company with the right workspace to succeed," said Shachar Radin-Shomrat, CMO at HubbleHQ. "Over the last five years the HubbleHQ team has worked hard to build a brand synonymous with best-in-class, fully transparent office search, trusted by companies big and small. Not only does our new brand identity encapsulate what HubbleHQ already stands for, it also brings personality and modernity to the functional office space market – and gives us an incredible platform to keep innovating in our sector. But most importantly, HubbleHQ's progressive, empathetic culture shines through; a tribute to the incredible team at the heart of our success."
ENDS
For more information contact Hubble@thephagroup.com / 0207 4400 781
About HubbleHQ
HubbleHQ is the only office rental marketplace to combine industry-leading technology, data insights and market expertise to match businesses with the right workplace to succeed.
HubbleHQ delivers an unrivalled search experience for businesses of all sizes, across flexible, managed and leased options – supercharged by the largest, real-time dataset on the office rental market.
Having already worked with some of the UK's most forward-thinking companies – including Monzo, Trussle, and Citymapper – HubbleHQ is trusted by businesses large and small, with a Google rating of 4.9 stars.
Published at Wed, 09 Oct 2019 09:52:00 +0000