Genmed makes senior leadership team changes to build its international healthcare business and focus on NHS growth opportunities
October 1, 2019 – Genmed announces today that its current chairman, Jonathan Wedgbury, and chief executive, Robin Modak are swapping roles to capitalise on their respective skill sets, expertise and commercial experience to drive the business forward. This is in light of significant UK and international market growth opportunities and the size and complexity of Genmed's managed service contracts given the ever increasing demands on the NHS.
Jonathan Wedgbury – who joined Genmed's board in October 2018 as chairman – will take over position as chief executive officer effective immediately, with Robin Modak – the founder of the company and current CEO – becoming director of new models and markets and the new chairman.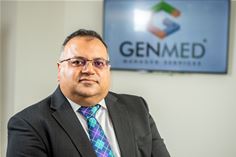 Robin Modak, chairman and founder of Genmed
Since the company was founded in 2007, the business has grown exponentially with Genmed now the market leader in the provision of managed services contracts related to surgery and pathology. Over the past six years, Genmed's turnover has increased 513%, with year on year revenue growth rising from £38.6 million (2017/18) to £63.2 million. (2018/19).
The business now partners with 42 Trusts around the country and has 250 managed service contracts (MSCs) some of which are substantial totalling £180 million over their contractual term. Genmed works with Trusts such as Countess of Chester Hospital, London Northwest University Healthcare, Norfolk & Norwich University Hospitals, Nottingham University Hospitals, South West London Elective Orthopaedic Centre and Wirral University Teaching Hospital among others. Managed services shift costs from CAPEX to OPEX and means finance directors avoid having to find additional capital they just don't have available.
With sales conversations now very much held at a c-suite level, Jonathan Wedgbury will take over the role of chief executive capitalising on his 35 years commercial and procurement experience in the NHS. A former commercial director for the West Midlands Regional Health Authority, he became chief executive of the NHS Healthcare Purchasing Consortium (HPC) in 2001. With an annual non-pay spend of £3.8 billion, HPC was responsible for all procurement and supply chain expenditure for the West Midlands and the North Central London Strategic Health Authority. It was rebranded Health Trust Europe LLP in 2011 after the organisation was sold to Hospital Corporation of America.
Jonathan Wedgbury says, "Given the lack of capital in the NHS, we are fulfilling huge demand from Trusts as they work to improve the effectiveness of their back office services to support the STP[1] agenda and deliver integrated care pathways. This is putting the horsepower behind Genmed's growth as Trusts turn to us to help fund new estate and equipment – thereby boosting efficiency – and we take out additional cost for them by managing all the administrative, invoicing and supplier relationships that this entails."
Robin Modak will focus on developing Genmed's strategy and commercial reach by launching new businesses and creating additional MSC models to expand its service offerings for both the public and private healthcare sectors. A new company, Genmed Managed Services, has already incorporated in Dublin and partnerships developed with large medical equipment OEMs in Europe so that Genmed can enter international healthcare markets.
Furthermore, he will be looking at how to collate data from all the buying Genmed does on behalf of its customers to provide real-time and quality analytics about NHS purchasing with the objective to then build a consultancy business around this to assist Trusts to further improve efficiency savings.
Robin Modak says, "The board has ambitious goals. Jonathan will focus on growth; I will be responsible for reach. Our strategy is to take the business to £500 million in sales in three years and reach £1 billion in five. Whilst we are providing managed services in all clinical and non-clinical areas, our focus is wider today as we have the know-how, the resources and the partners to continue to not only support public hospitals but target the private healthcare sector in the UK and internationally, too."
[1] Sustainability and Transformation Partnership
– ENDS –
About Genmed
Founded in 2007 and based in London and Wales, Genmed is a vendor neutral managed service provider specialising in the health sector. It works with 42 NHS Trusts and Health Boards around the country where, to date, it has 250 contracts supporting a variety of clinical disciplines such as pathology, surgery, endoscopy, imaging along with medical records, IT and facilities. Genmed's asset finance requirements are funded by large blue chip partners including Societe Generale and GE Capital. Currently Genmed's contract portfolio totals around £620 million.
Genmed is headquartered in Weybridge, Surrey. For further information, please visit www.genmed.eu
For further information, please contact
Tom Herbst
Tom Herbst PR
T: 07768 145571
Email: tom@tomherbstpr.co.uk
Published at Tue, 01 Oct 2019 13:24:00 +0000