AI-powered flexible work platform, Catapult, launches in Germany
BERLIN, DE – 5th August 2019. Catapult, the UK-based flexible work platform that caters to hospitality and retail employers, has celebrated its Germany launch in Berlin.
The event was held at Berlin's STATE Studio and with a guest list including hospitality and retail leaders from Crowne Plaza, Sheraton, Zara, Allianz, Swissotel Berlin, Vapiano, Motel One, METRO and many more.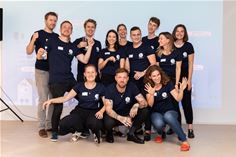 Catapult Berlin
Catapult's app and platform uses behavioural science and AI to match highly skilled and experienced part-time workers with top employers. The technology allows employers to scale their workforce up and down, taking advantage of daily and seasonal peaks, and giving part-time workers the flexibility to choose when and where they work.
A unique opportunity
Germany is the second market for Catapult, which has successfully expanded across the UK. There, Catapult will address the unique challenges Germany's highly regulated staffing industry presents such as mandatory paper contracts, while record-low unemployment rates make attracting quality candidates difficult for employers.
Catapult will also solve the broader strains a fixed labour model places on employers such as lack of flexibility, missed revenue due to understaffing during peaks, staff retention and slow, expensive recruitment processes.
Catapult's COO and Managing Director of Germany, Jette Schaffran, said:
"Germany has some catching up to do when it comes to finding innovative solutions to staffing-related issues. We're really excited to provide a streamlined system to some of these manual processes, inject flexibility into hospitality and retail recruitment and give some control back to part-time workers in Berlin."
About Catapult
Founded by Steffen Wulff Petersen, Oli Johnson, and Ben Dixon, it's Catapult's mission to give part-time hospitality and retail workers greater flexibility and control over the way they work.
Catapult has received funding from a range of high profile VCs and angel investors, including the partners of Novator Partners (investors in Zwift, Klang Games and Rebag) and Rocket Internet's venture investment arm, Global Founders Capital, with participation from Elkstone Capital.
Catapult's partners include Clarks, PAUL and Marriott in the UK, and Vapiano, Avocai and Motel One in Germany. Catapult has processed over 1 million hours of work and the average shift fulfilment time in the UK is just 6 minutes.
Published at Mon, 05 Aug 2019 07:00:00 +0000